Yesterday was one very rough day. It was fun nevertheless. I went waterfall hiking with my mates. No idea on what that is? It is a combination of rock climbing, water wading and hiking.

It was the Taman Ros waterfall that we went to. Taman Ros is on the left at the first traffic light on the way to Tapah from Kampar through the trunk road. The rocks were slippery and most of us suffered some form of injury. Even the hiking trail was full of evil leeches and an expedition member, Caroline was hit several times by their vicious attack. We climbed waterfall after waterfall gaining altitude with each, trying to reach the MOTHER of all the falls there.

After hiking and climbing the waterfalls for a few hours, we started to worry about getting back. The hike up was very dangerous, it was filled with slippery and jagged rocks, rotten tree trunk and poisonous insects. We still continued hiking despite the thought.

6 hours into our hike we took 5 and waited for our Tarzan (Chuah aka Chuek) to return because he was the one who lead the team and scouted ahead. He was really a Tarzan! Imagine a guy topless, with only a pair blue shorts jumping from rock to rock, and those rocks are slippery rocks. We waited and waited.. And waited. He still did not return.. Then we sent our Assistant Tarzan, Edward to look for him. He went for awhile and came back with a solemn face, no sign of Tarzan. We waited together again..

The whole merry and happy situation was gone and was replaced by a sense of dread, everyone was quiet and started to plan ahead. If there is still no sign of him in half an hour we would leave for home as sunlight started to diminish. Edward went out looking for him again, one last time before we leave. Again he came back with bad news, no signs of him but he found a jungle trail down the hill. So, we decided to leave him a message carved out on a rock saying 'home' with a stick of cigarette (He is one heavy smoker).

As we were climbing up from the falls to the trail, we saw movements and a tinge of red among the forest green. That couldn't be Chuek because he was topless and was only wearing a blue shorts. We yelled and shouted. Apparently, the tinge of red we saw was the red t-shirts worn by the Rakan Muda troop. We gave a description about our friend who was missing and asked them if they had seen him. They said no.

On the way down we saw some old timers hiking up. We told them our story and they asked us to follow them up to search for Chuek. All of us couldn't afford to follow them, Chuek could already be down there waiting for us. So, Edward followed them up and the rest of us continued our descend. It was a long long trail down. There were even talks among the expedition group that they would give Chuek one hella slap before hugging him when he was found.

Around an hour plus into our descend we got a phone call from Edward saying he found Chuek. We were comforted by the news but it wasn't overwhelming yet. Another hour down, we heard voices from behind us, it was Edward and Chuek! Both of them came down with the old timers and was able to catch up with us. The slapping and hugging had to wait till we get to the bottom.

One of the old timers led the way down, he was jogging down the mountain trail and we had to keep up with him. He was even blabbering non-stop about his life as he jog. I only managed to caught half of what he was saying. "He's a 55 year old trainer who teaches boxing above a shop lot which is near KTAR (Kolej Tunku Abdul Rahman)".

After a while of hearing his lecture while jogging down the trail, we reached the foot of the hill. Chuek's time was up, it's clobbering time! *Piak*Piak* He got slapped by Caroline followed by a tight hug from her. He then explained his side of the story.

He was waiting for us a distance ahead from where we waited for him. When Edward went looking for him, Edward found a waterfall that was very difficult to climb as the only way up was a tree trunk with water gushing down it. There was no other way up. Chuek was even beyond that point. He was further away. He climbed the tree and continued on. We also questioned him on why did he not kept visual contact with the rest of us. He said that he saw a shadow and it was calling him to follow it. I don't know it's that's bull***t but the jungle is full of these kind of things.

After changing into dry clothes, we went off for dinner. That was one hella adventure!!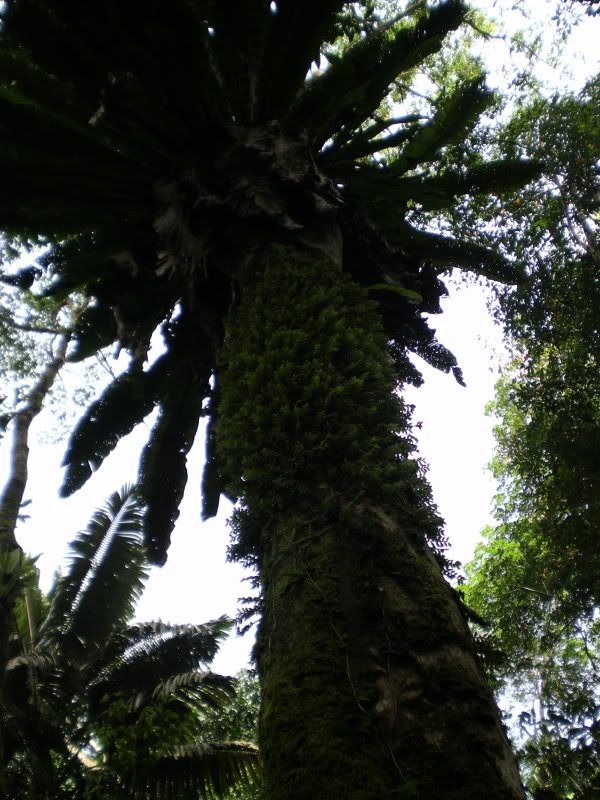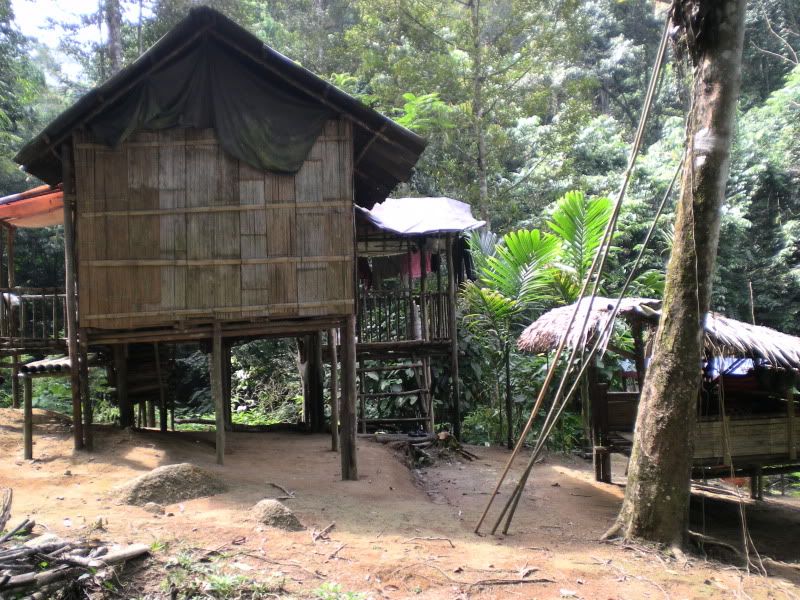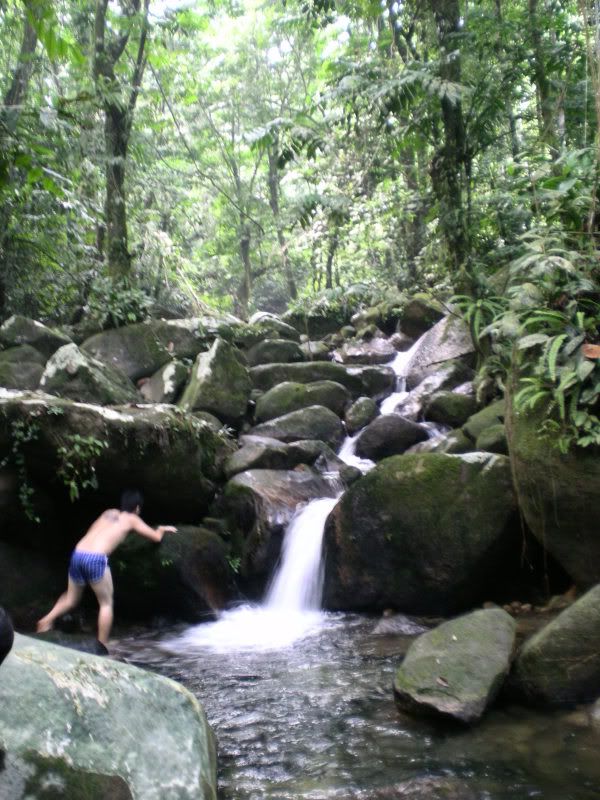 Mr Tarzan trying to climb the rock.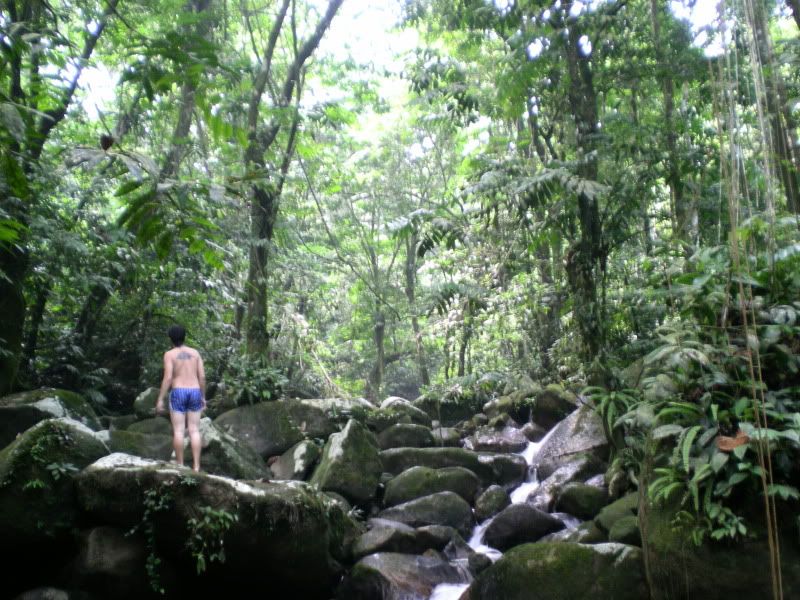 Mr Tarzan up the rock.
Mr Tarzan n gang.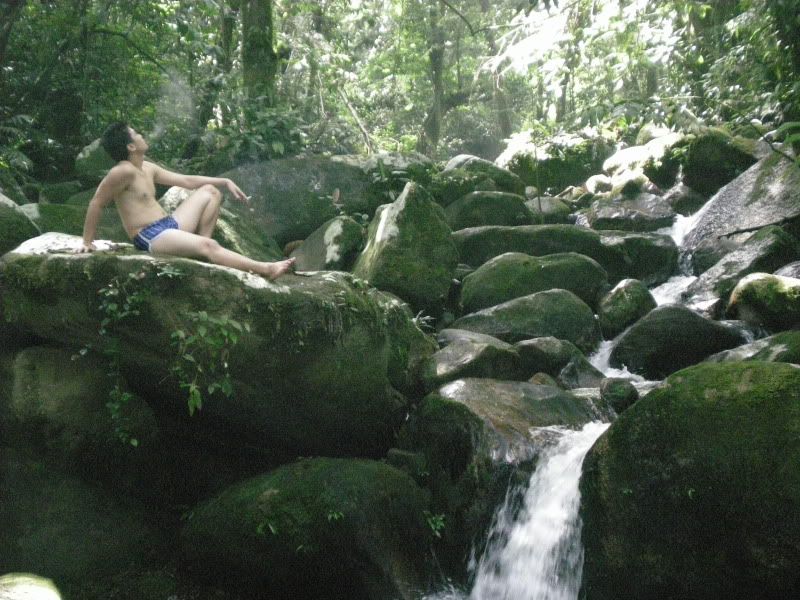 Mr Tarzan puffing like a chimney.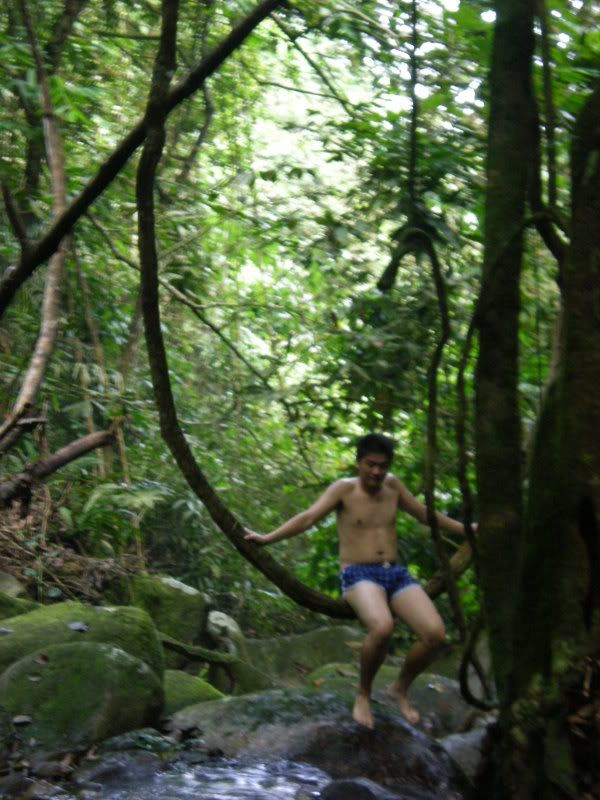 Swing swing!!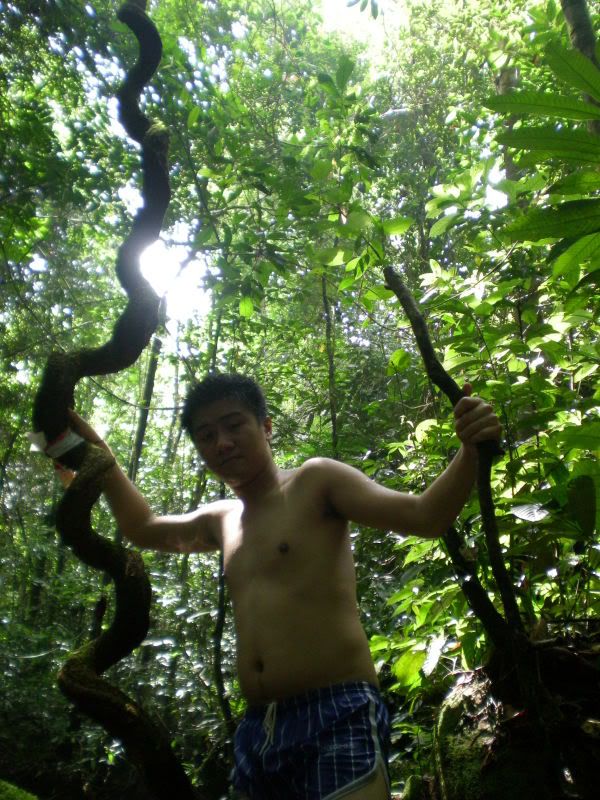 I am.... the jungleman, Tarzan!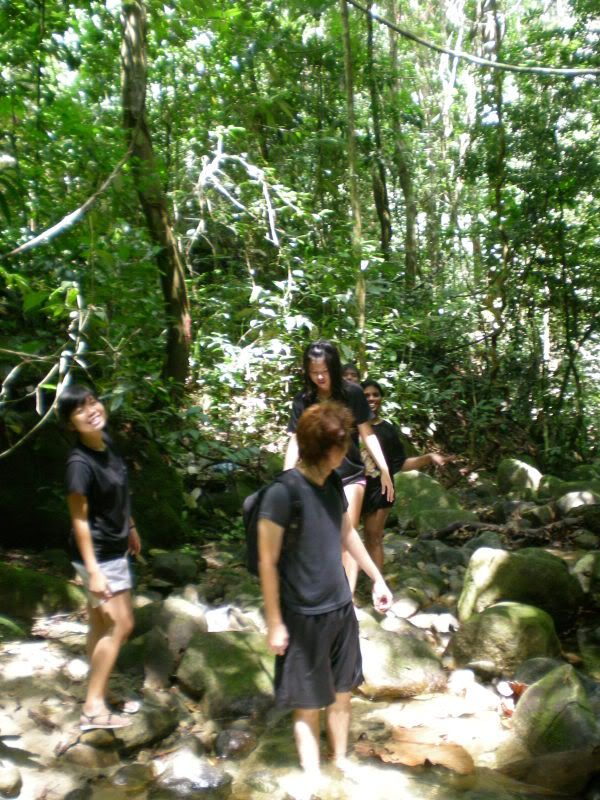 The expedition members.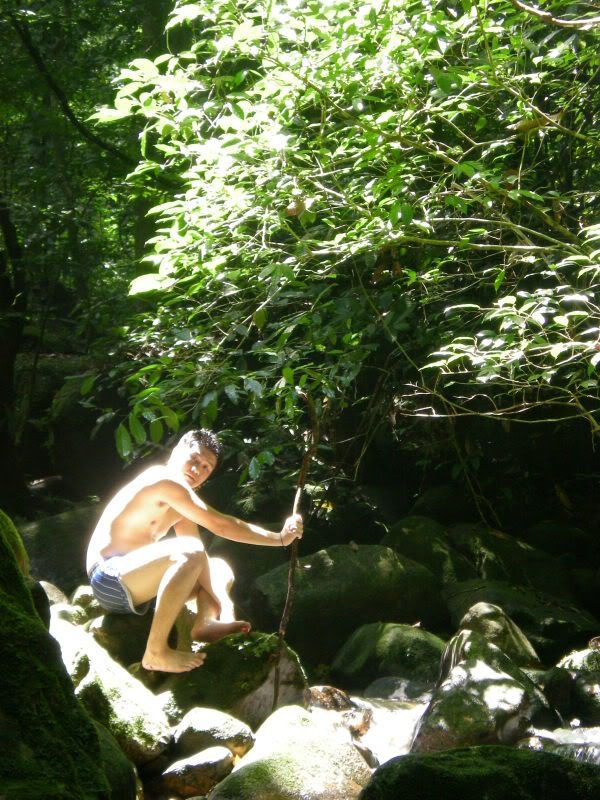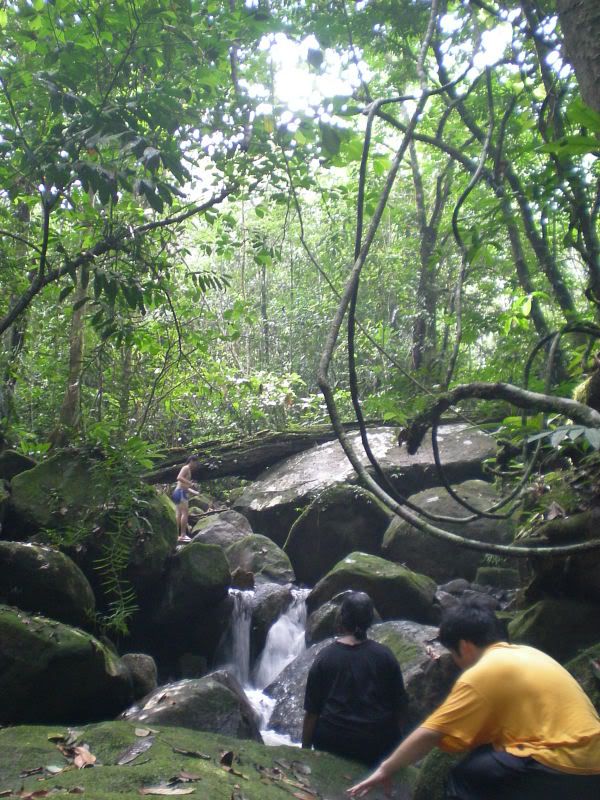 Almost the whole crew...
Big Momma preparing snacks for her lil kiddies..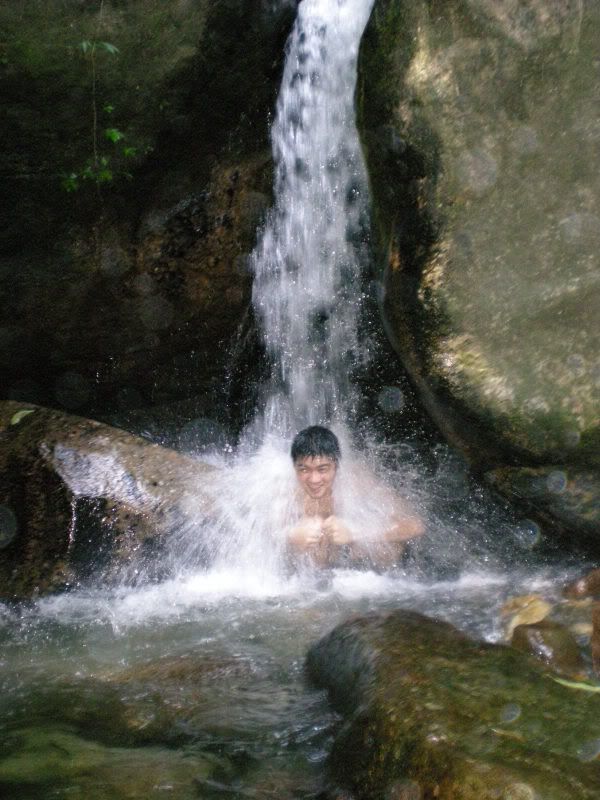 Mr Tarzan's version of 'BOOM! BOOM! FIREPOWER!'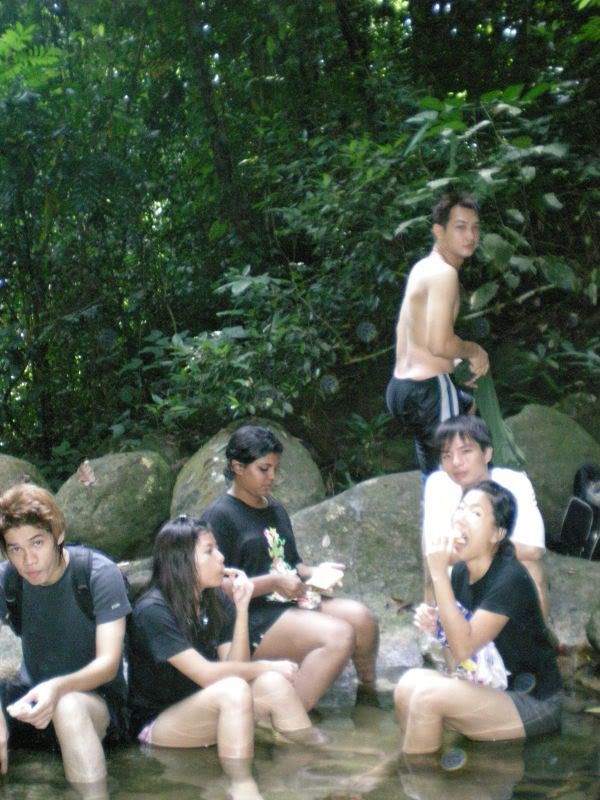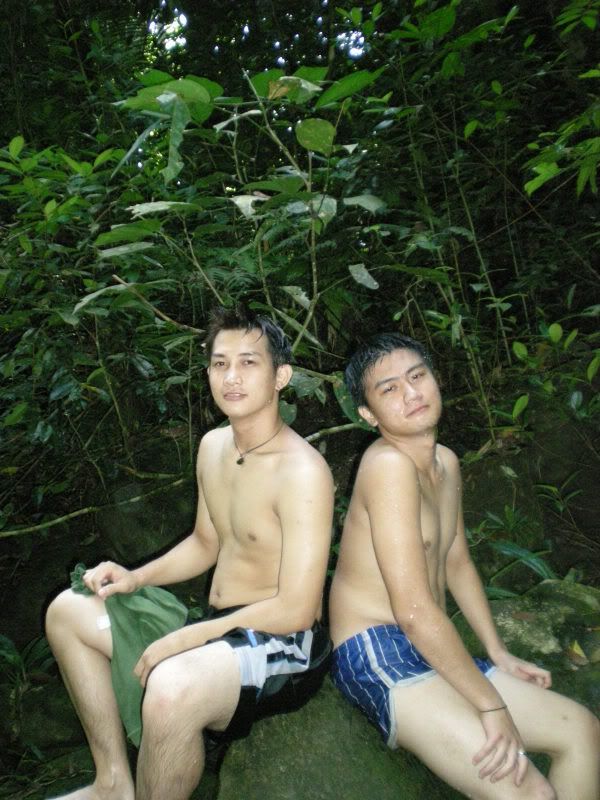 Mr Assitant Tarzan, Edward Loh on the left and Mr Tarzan, Chuek on the right.